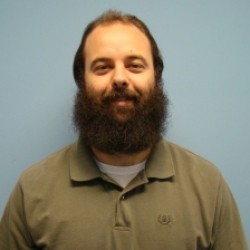 Jonathan Chapman – 2016-2017
Breathitt County
Snapshot
October 2016 Presentation:
Canada Geese in the Panbowl
Students at LBJ Elementary School have been trying to rid their campus of Canada Geese. The geese are very messy and leave their droppings on the playground and ball courts around the school campus. This is a nuisance and a possible health hazard for the students at LBJ. The 6th grade class at LBJ has been experimenting with different deterrent methods as part of a PBL (Problem Based Learning) project. Students first observed and identified a real-world problem that they felt was important to them. Students then researched the problem and found other potential stakeholders that shared the same problem.
Many residents around Panbowl Lake and businesses in the community were also interested in finding a solution to the goose problem. The sixth-grade class would like to include aerial photos and videos of our campus and community to help promote community involvement. We believe that the use of a drone to capture these images would be the best and most efficient way to do this. If a picture is worth a thousand words, then an aerial video must be worth a million. Our hope is that we can gain new stakeholders and increase community involvement to further our project and find viable solutions to our Canada Goose problem. We think that the drone would be a valuable resource in our PR campaign.
Students contacted the University of Kentucky Department of Agriculture Breathitt Extension Office and were very pleased to learn that the University was willing to help fund part of the project! With the help of Mr. Ty Back and the University students were able to purchase 'The Goose Buster'. The Goose Buster is a programmable speaker system that plays 'real life' recordings of Canada Geese distress calls. The distress calls mimic geese when predators are near or the flock is in danger. The system is designed to make the geese uncomfortable so they will move to other areas. Students plan on implementing The Goose Buster in the Spring as the geese begin making nests on and around campus and begin foraging the grounds for insects and grubs.
April 2017 – FIREsummit Presentation:
Project Photos: