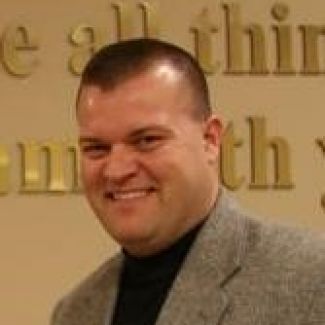 Charles Michael Bell
Floyd County
Snapshot
The Giving Room – Giving something of Yourself for the Benefit of Others
Too often, many students choose not to be, or are not self motivated to be active learners due to a past traumatic experience where someone has stifled them or caused them to feel inadaquet in creating, performing, or producing something on a acceptable level. Many of these students are our Johnny and Susies that may be a disciple problem, do not participate in curricular or extra-curricular activities, and tend to hang around the middle to lower part of the GPA scale. These are the students that seem to "fall between the cracks". It's time for that to STOP!
At the conclusion of each school I look back over my classes and evaluate each student's level of activity and/or participation, growth and discipline. It's more than just pass or fail. Were they engaged? Were they active learners? What did I, as their teacher, do to include them, or provide them with the opportunity to participate or succeed? This past year the amount of students who fit into these categories were numerous. I accepted MEDIOCRITY. and let those students down.
It's time to expect more from all of our students. It's time for them to be active and engaged learner, and the Giving Room will provide that opportunity and motivation our students need to succeed. The Giving Room will provide opportunities for each student to challenge themselves, create something new and care about someone other than themselves through an ongoing project based learning initiative.
I believe a project based learning inititive will provide inclusion and success for each and every student, and will provided the guiding measure to the success of this project. Students will be provided technological devices (Microcomputers such as Raspberry Pis, Adafruit Circuit Playgrounds, and Coding education) and a maker space to create and/or produce something for their class, school, or community in order to become active learners. IT professionals within our community, related arts teachers, regular classroom teachers, special education teachers and administration will come along side the students in order guide, share and mentor them towards inclusion and success.
As the project based learning initiative progresses throughout the school year, I will measure the student's attendance, discipline referrals, engagement within their other classes and participation in curricular and extra-curricular activities and events. As well as, their knowledge of the project, their passion for their project and the completion or ongoing status of the project. Students will have the opportunity to also express themselves through written and verbal communications individually or as a member of a group at the school's Student Showcase event, or through district, regional or state wide presentations. I cannot settle for mediocrity anymore. It is time for me to allow my student the opportunity to get outside the box and change themselves and the world around them.